On Monday, 18th December 2017 in an action without precedent, hundreds of Romanian judges and prosecutors protested around the country (Bucharest, Timișoara, Cluj, Sibiu, Iași, Botoșani, Constanța, Brașov, Pitești, Baia Mare, Galați, Brăila, Slatina etc.) against changes that would stop prosecutions and the changes of the judiciary laws.  Foreign media reflected the protests.
They turned out to show their opposition to government imposed changes to the country's legal system which are currently going through parliament.
They claim they will hamper prosecutions and restrict Romania's ability to punish high-level corruption.
Prosecutor Antonia Diaconu took part in the protest:
"We are here in the interests of the people. We are carrying out our daily duties but we would like to do our job in the same way as we have always done so.
Others have condemned the government for rushing through the changes which include measures which threaten the independence of the judiciary.
"Even though the European Commission has many times expressed concerns over the changes and thousands of protesters have demonstrated against them , it seems that there is nothing to be done anymore," said Judge Dragos Calin.
Among the proposed changes are a move to ban public statements about investigations and trials, and another to limit the use of video and audio recordings. A further proposal would allow suspects to be present when witnesses are giving testimony.
Prosecutors say that could mean the victim of a pedophile being obliged to give evidence in front of their perpetrator.
One agency charged with prosecuting organized crime and terrorism said last week that 1,200 drug trafficking cases would be halted if the amendments became law.
Parliament's lower House has already approved three bills in the government's legal reform programme, the latest restricts presidential power in the appointment of top judges.
http://www.euronews.com/2017/12/18/romanian-judges-protest-over-government-backed-legal-reforms

https://www.washingtonpost.com/world/europe/romanian-judges-say-new-laws-will-stymie-prosecutions/2017/12/18/63c43882-e3fa-11e7-927a-e72eac1e73b6_story.html?utm_term=.4b1d6ed7b3a4
https://www.cnbc.com/2017/12/18/the-associated-press-romania-judges-hold-protests-over-legal-system-changes.html
https://www.voanews.com/a/romania-judges-hold-protests-voer-legal-system-changes-/4169052.html?utm_source=dlvr.it&utm_medium=twitter
https://www.youtube.com/watch? v=Yz8hxYXqzlE
http://dailycapital.pk/news/international/7HSiwnEm-QMtkn35J/Romanian-Judges-Protest-over-Government-backed-Leg
Bucharest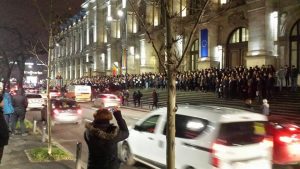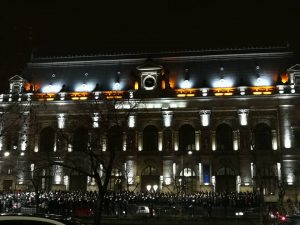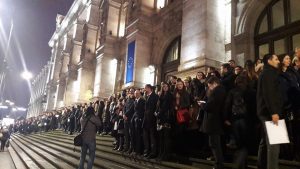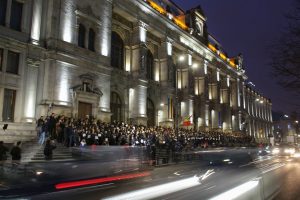 No related posts.